Get on your CLASSIC BIKE and ride!!

NLCCBC Club Ride Schedule 2010!

· WE RIDE IN DOWNTOWN NEW LONDON ·
Download the 2010 ride schedule here.
New Members Always Welcome!
New London Custom Bike Club invites you to join us this year for our Classic and Custom Bicycle Rides!
All riders of vintage and customized bikes are welcome to join us! Bring your Apple Krate, Deluxe Stingray,
Raleigh Chopper, Phantom, Collegiate, Iverson, Murray, Columbia, 3-speed, 5-speed, 10-speed, BMX,
fixed-gear, Rat Rod, Lowrider, Boardtracker, Pre-War or any cool old bicycle!
This year, we will be riding around New London, to see the Sailfest Fireworks, Captain Scott's Lobster Dock,
Fort Trumbull, Ocean Beach, Fred's Shanty, Harkness State Park, and a lot of places in between.
Each ride has a theme, so join us for a ride that interests you.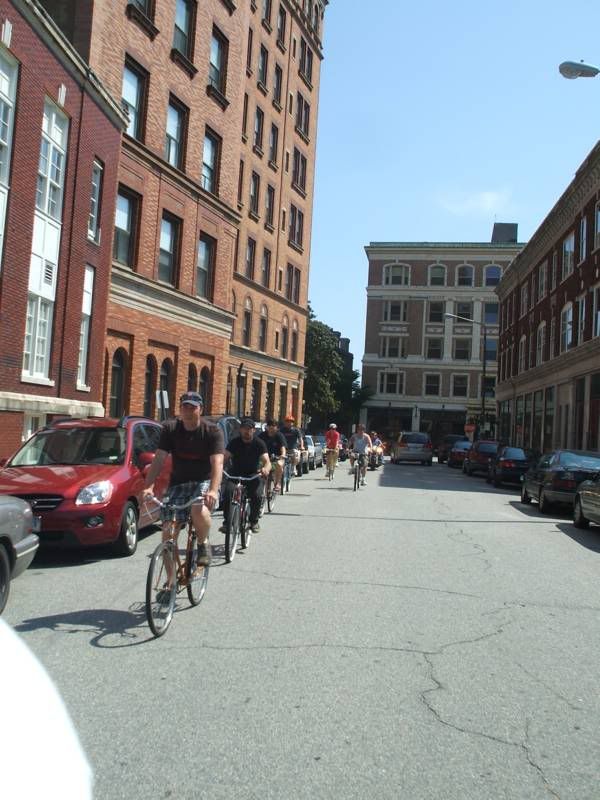 We will be making some longer distance trips this year, and going to some events and places out of our area.
We're going to Block Island for a weekend- join us for a ride around town.
Call to get details or directions for any of our events. Contact Rob at (860) 912-6882.
There's something for all enthusiasts, so we hope to see you this year!
NOTE: We are coordinating our ride schedule with other organizations.
Please check before attending a scheduled event! Please email with your event schedule!
Contact us by email:
Email Rob at:

schwinn_sting_rays@snet.net.
--=--=--=--=--=--=--=--=--=--=--=--=--=--=--=--=--=--=--=--=--
2010 NLCCBC Ride Schedule:
Sunday May 30th: Cruiser Ride! 12:00 NOON
-- Bring the fat tires, chrome and whitewalls! Meet at the Bean & Leaf Coffee shop, 13 Washington St., New London
Hundreds of flowering trees should be blooming as we ride from downtown, to Ocean Beach via Truman, Shaw and Pequot.
All heavy to lightweight road, touring, cruiser, hybrid, and mountain bikes welcome!
Sunday June 27th: The RAT ROD RIDE! 2:00 PM
-- Downtown Waterfront Park, Slow-n-Low ride for Custom-Built Bikes, Rat Rods, Lowriders!
Meet at Hygienic Art Park, 79 Bank St., New London. An easy day by the water with kool kustom bikes and folks!
Saturday July 10th SAILFEST! 12:00 NOON to 10:00PM
Join BIKE NEW LONDON to provide a community service at Sailfest: BIKE VALET allows folks to ride to
downtown New London, enjoy the day and not worry about their bicycles in the crowd.
Ride with us to Fort Trumbull see the fireworks at 9:00 PM. Headlights required, all bikes welcome.
Meet at State St. & Eugene O'Neill, at the Whale Wall. Note: Downtown New London is closed to vehicle traffic after 5:00 PM.
Sunday July 11th and Monday July 12th: Block Island!
-- Block Island Ride! We will be taking the ferry to Block Island with some of our classic bikes!
Join us for a very special day on the island. Meet at Mohegan Cafe, Water St, Block Island.
Call ahead (860) 912 6882 or email Rob at: schwinn_sting_rays@snet.net to join up.
Take the Ferry from New London, CT or Pt Judith, RI and meet up with us on Block Island!
Saturday July 31st: BIKE FEST NEW LONDON! 12:00 NOON
-- Downtown Waterfront Park, Second Annual Bike Fest NL brought to you by Bike New London,
making New London a safe and fun place to ride your bicycle! Events throughout the day at the
Waterfront Park, New London. Bike Shops, NLPD bike safety demonstrations, custom bikes, fun and sun!
See www.bikenewlondon.org for more info!
Sunday August 1st: Road Bike Ride 2:00 PM
A little longer than our other rides, making a loop to Harkness State Park in Waterford and back.
All types of bikes welcome, 3-spd, 5-spd, 10-spd, fixies, lightweights and cruisers.
Meet at Fort Trumbull, East St., New London. Join us for a snack at Fred's Shanty on the return trip.
Sunday August 22nd: New England Musclebike Museum Swap Meet! 9:00AM to 2:00 PM
-- New England Musclebike Museum, Bloomfield, CT! All types of bikes and parts for sale.
Tour the museum, an amazing collection of 60's and 70's Stingrays, Choppers, and dozens of other muscle bikes!
Sunday September 19th: THE TWENTY INCH RIDE! 2:00 PM
-- Fort Trumbull, Capt. Scott's Lobster Dock, all 20" bikes!
Bring your Stingrays, Krates, Choppers, Lowriders, BMX's, and other classic musclebikes.
Meet at Hygienic Art Park, 79 Bank St., New London
Sunday October 17th: Fall Wrapup 12:00 NOON
-- Club pub ride, Cookout, Bike Sale, Parts Swap, Shop Rat tour, $1 bins, contact Rob for more info (860) 912 6882.
Sale and swap will be held at 96 Hempstead St., New London
Hope you can join us on these fun rides!
--=--=--=--=--=--=--=--=--=--=--=--=--=--=--=--=--=--=--=--=--
Enter the BIKES FOR SALE page here!
Enter the PARTS FOR SALE page here!
CLICK HERE TO VISIT THE NEW LONDON CONN CUSTOM BIKE CLUB HOME PAGE: