This is a club that gets together just for fun! We share a common interest in classic Schwinns, Raleighs, Columbias, Sears, Ross, Murrays, Rollfasts, you name it! We like custom bikes, choppers, home-builts, Rat Rods, cruisers, Krates, trikes, just about anything that rolls! We build and repair our own bikes. We help others build and repair theirs. We encourage people of all ages to restore old bicycles or customize one their own way. Members of the club buy and sell parts, offer complete bikes for sale, and some can build a custom bike for you! We have members who do welding, fabrication, painting, pinstriping, as well as general service and professional repairs of bicycles.

Who can join? The NLCCBC is open to members from anywhere. We are located in New London, Connecticut, and focus our activities on local events. We enjoy cycling in New London from one end to the other, as well as other locations in eastern Connecticut and nearby Rhode Island. We occasionally do trips to join up with other cyclists for vintage and custom bike rides, shows, swap meets, parades, and other events.

How do I join? Presently, membership is free. We are not yet publishing a printed newsletter, but it may happen in the future. We send out most of our notices and flyers as electronic documents. Feel free to print, copy, display, and distribute them. In the future we will consider collecting dues only to cover the costs of printing and mailing newsletters. We have expanded these pages to include some bikes and parts FOR SALE and WANTED ads.
Members can submit ads for free to be included on the website. All ads will be accepted only for bicycle related subjects. To sign up: Send me an email or print and mail the application. We need all the standard contact info and please list the bikes you have, or collect. Include any project bikes that are underway- we want to feature project bikes in future stories!

What's coming up? We organize most of our rides around easy trips to local landmarks or attractions.
Our whole ride schedule is posted here. You can download the flyer for the NLCCBC rides HERE.

We are planning more group rides, a driveway sale, and club cookouts and beach days. We will be visiting Harkness State Park in Waterford for a day out by Long Island Sound. Harkness has nice roads and trails in the park as well as an incredible series of gardens on the property. Club members regularly ride downtown through the Waterfront Park and go on rides to Ocean Beach Park and other attractions. Call us or email if you want to be included in these informal events!

BUILD-A-BIKE! We will be encouraging all members to get together in 2010 to each build a bike for a neighborhood kid. Club members are highly involved in the local community at many levels. Part of that commitment is to help spread the fun of cycling to a kid who might not otherwise be able to afford a fun, safe bike. Our goal is to have each participating NLCCBC club member repair or provide a bike to be donated. Contact us for more info, to donate, or just to find out how you can be a part of this!

Classified Ads!

We encourage all members to buy and sell parts here! Many members have already agreed to a no-cost or barter system with other members, which brings us back to a simpler time. This is the true spirit of custom bike projects! If you have parts or complete bikes you wish to offer for sale, email me to have them added to the Sales page! Email Rob at:

Enter the BIKES FOR SALE page here!

Enter the PARTS FOR SALE page here!

If you sell bikes or items totalling $100 or more, we ask that you contribute 5% to NLCCBC. This is an honor-system posting method designed to benefit the whole community, including YOU. Please notify us of the sale and make your contribution, so we can take down the advertisement.

New London Custom Bike Club invites you to join us!

For directions here, follow this: http://www.bareiss.net/directions.html.
You can call to join the club or get on our email list! Contact Rob at (860) 912-6882.
Email Rob at:
schwinn_sting_rays@snet.net.
Terra Cyclery, New London's Schwinn Dealer!
Muscle Bikes Forums
Schwinn Bikes Official Website
Worksman Cycle American Made Cruisers
Visit the New England Musclebike Museum!
Visit Rat Rod Bikes and get your next project rolling: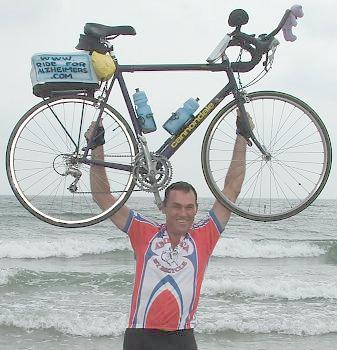 Ride For Alzheimer's: Cross Country Rides to Support Alzheimer's Patient Care!
Read John's cross-country Ride Journals, see pictures of all the places his rides have taken him, and ride along as he completes his journey each day!